Majestic Lake Sakakawea
Lake Sakakawea is a large body of water located in north central United States. It is named for the young woman of Shoshoni heritage, Sakakawea, or Sacajawea, who guided Lewis and Clark on their expedition. The reservoir is the largest man-made lake in North Dakota and the second largest in the United States. Lake Sakakawea provides benefits for the residents of North Dakota including water quality, irrigation, recreation, and hydropower production.
The lake boasts beautiful waters and superb heritage. The area is proud to host over 30 recreational sites with much to offer. The waters provide plentiful activities including some of the best fishing in the state, boating, and campgrounds. In these waters you can find bass, walleye, and trout. Residents in the surrounding communities of McLean, Oliver, and Mercer counties enjoy the scenery and benefits of this beautiful Lake.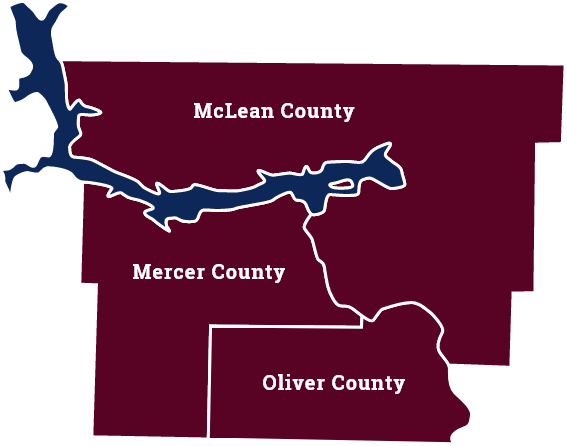 McLean County was founded in 1883 which was 6 years before North Dakota became an official state. It is in Central North Dakota and has a population of over 10,000. Cities located in McLean County include Washburn, Garrison, Turtle Lake, and Wilton.
Mercer County was founded in 1874 and was named after William Henry Harrison Mercer who was an early rancher that settled north of the Bismarck area in 1869. Within this county are cities such as Beulah, Hazen, and Stanton which holds the county seat.
Oliver County was created in 1885 and is home to a single city named Center. This county was named after Harry S. Oliver, a Republican politician of that time. The population is under 2,000.